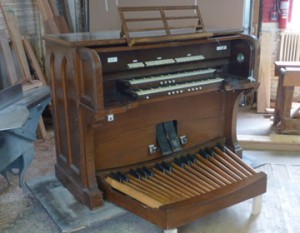 A console restoration begins as it arrives at our loading dock.
Here is the same console after it's restoration and several significant upgrades.
Klann Organ Supply has over it's 100+ years developed a reputation for building many of the finest traditional organ consoles in the world. The same skills and knowledge we use to build our own consoles are also available to you, the organ builder in your organ rebuilding and restoration projects.
The scope of our possible involvement for the organ builder in his projects may range from replacing the nameboard and side jams, to replacing the entire interior including the combination and organ control system.
We will quote in a timely fashion all operations  needed to be performed after the scope and details of the work and materials are defined.
The above before and after pictures are of a recent console rebuild which included the following:
Install, wire and test new console control system.
Touch up and spray console shell exterior
New nameboard
Mount and wire new contact rails on existing manuals
Refinish keycheeks and replace interior panels as needed
New keyslips with MP47 thumb pistons.
Modify toe panel to accept additional toe pistons and an additional expression pedal
New music rack base to attach to existing back
Installed additional components such as key locking switches, lights, engraved plates etc
Our Office
700 Second Street
Waynesboro, VA 22980